Our family of winemakers has been deeply involved in making wine for several generations.
Buying at the winery
Our winery shop at the Place de l'Eglise in Echichens is open daily as well as Saturday morning.
Buy online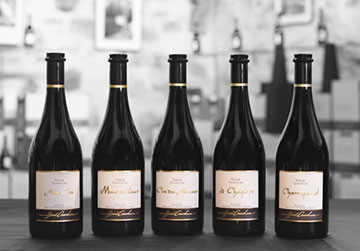 Our winery has introduced a large number of varieties, creating a bouquet of grapes that is unique in canton Vaud.
A FAMILY STORY
THE HENRI CRUCHON DOMAIN
The domain cultivates a total of sixteen different grape varieties scattered over several small plots within the vineyards of Morges. A true mosaic of vines spread amongst a landscape of envied natural beauty, each having its own terroir, micro climate and personality. Our challenge lies in the art of converting the fruit from each one of these plots whilst preserving the magic of their terroir.
The originality of grape varieties and terroir can only be expressed through a culture that respects the natural environment. Two methods are used at the domain.