TERROIR AND SOIL PROFILE
Mont de Vaux, a perfectly exposed terrace above the town of Morges, was formed on a very stony alpine moraine which gives the wine a virile ,mineral structure of great boldness. The powerful and complex aromas have a depth rarely reached in a Chasselas.
It is a great joy to see the true personality of this beautiful terroir reveal itself a little more each year.
The vines are cultivated respecting lunar rhythms, receive only natural treatments and the use of chemical products are forbidden. Leaf thinning and harvesting are carried out manually and harvests are strictly limited. In order to preserve these qualities, the wine is bottled without filtration which could create a noble and natural sediment.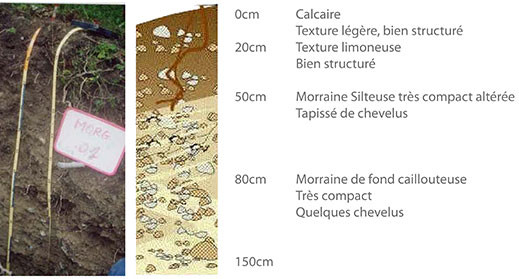 SPECIFICATION SHEET
Grape Variety
Chasselas
Vine training system
Guyot simple form
Planting density
6000 plants / ha
Age of vines
30 years
Targeted yield
800 – 900 gr/ m2
Vine growing
Biodynamic since 2002
Pruning, disbudding, leaf thinning and harvesting are carried out by hand
Weed management
Mechanical weeding in between the vines
Le vin