TERROIR AND SOIL PROFILE
Raissennaz is a chalky soil loving vine; found on non chalky deeper layers, which come from the glacial moraine preventing erosion by driving rain.
This terroir has a slope varying between 10-15%. It is oriented west, southwest and at an altitude between 450 and 500 meters.
The Raissennaz terroir is exceptional and is the pride of our family. It consists of a triptych that is marvellous in the expression of Pinot Noir: The presence of calcium in the subsoil gives the grape variety its elegance. The fine clay enriches its silkiness. Its western exposure guarantees a rather fresh but temperate climate conducive to expressing all of the qualities this grape variety has to offer. All of the above contributes to giving this Great Growth a masterful depth of fruit, a dense, fleshy silkiness creating a legendary elegance. This terroir offers one of the most beautiful expressions of Pinot Noir in Switzerland.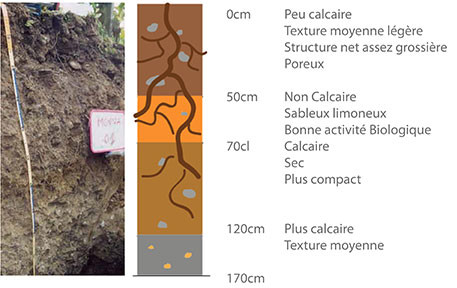 SPECIFICATION SHEET
Grape Variety
Pinot noir
Vine training system
Guyot simple form
Planting density
7500 plants / ha
Age of vines
Between 19 and 40 years
Target yield
Never exceeds 35hl / ha
Vine growing
Biodynamic since 1999
Pruning, disbudding, leaf thinning and harvesting are carried out by hand
Weed management
Mechanical weeding in between the vines
Clones
Burgundian , Oberlin and Cortaillot clones for the older vines and Servagnin clones for the younger vines
Le vin